Next FutuRes High-Level Policy Expert Workshop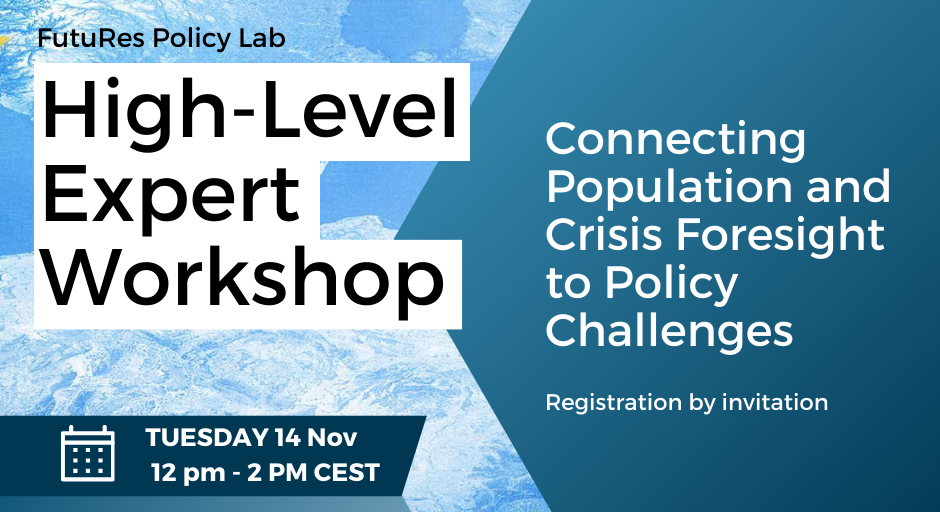 ONLINE - Registration needed
-
Next FutuRes High-Level Policy Expert Workshop:
Connecting Population and Crisis Foresight to Policy Challenges
Whether slow-onset changes or abrupt "shocks", research evidence can help reduce the "fog of uncertainty" when it comes to societal developments. In particular, policy makers often look for research tools that can predict changes in population dynamics so that they can plan how to manage them.
Experts in demography and other social sciences have range of established methods, from projections, foresight and scenario-building to simulations and analysing synthetic populations that address different problems. One thing they have in common is the challenge of connecting their results to practice.
How can complex and nuanced results from foresight exercises translate into usable information for policy makers? What are the challenges? What are some "successful" examples?
On 14 November 2023, a select group of leading experts who apply foresight methods within policy making, academia, NGOs and public administrations will answer these questions in an online workshop.
If you would like to join this workshop, please request an invitation by sending a message to: events@population-europe.eu
This workshop is part of the FutuRes Policy Lab dialogue series, in which eminent experts and stakeholders from research, politics, business and civil society discuss solutions for resilience-enhancing policies – driven by research evidence, practitioner experience and citizens' perspectives.